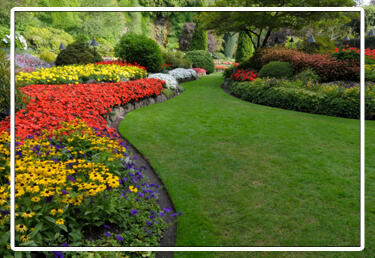 Landscape Design & Installation can add beauty and function to your landscape.
Having a well-designed landscape can add value to your home. It can add curb appeal and make you happy to call it yours. The professionals at LawnSouth can conceive, create and implement a landscape design to fit your budget. We can also incorporate your ideas and visions to make it uniquely yours. We specialize in design and craftmanship to bring your ideas to life.
More than planting shrubs and flowers go into a landscape design project. It is a well-orchestrated blend of greenery, and often times, hardscapes. It is important to have a landscape design that is both functional and aesthetically pleasing.
Elements of Design
Elements of a landscape design plan can include:
Tree, shrubs, flowers and vegetable gardens
Sod
Drainage Solutions (landscape and hardscape)
Outdoor Kitchens
Water Features
Landscape Lighting
Irrigation
If you have a blank canvas, an existing landscape in need of an enhancement or even an unkept landscape requiring a total renovation, LawnSouth can help. Every landscape is unique. Every design is unique and personalized. We design solutions specific to you property, and to reflect your vision, needs and style.
LawnSouth offers design plans that will help you understand and envision all aspects of your dream landscape.
We have created hundreds of beautiful landscapes for north metro Atlanta homeowners. See our portfolio here.
LawnSouth will guide you through the entire process from the initial consultation to installation. Whether you have a desire for a small landscape project to accent your yard or an elaborate design for a backyard oasis, let LawnSouth design the landscape of your dreams.
Contact or call LawnSouth at 770-642-7713 today for your landscape design consultation.