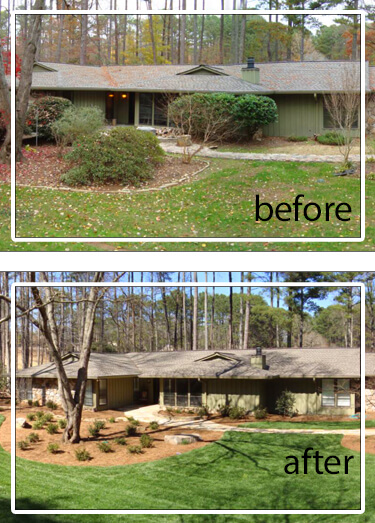 Often times, a landscape has deteriorated to a point that a renovation is needed. Renovation and repair may be necessary if you've moved into a new home that has an overgrown or neglected landscape or maybe you've left your landscape and lawn get to an unmanageable point without the assistance of a professional.  LawnSouth are  experts in renovation and repair and can help restore your landscape to a more desirable and manageable condition. Renovation and repair may include cutting back overgrowth, trimming dead growth on bushes, shrubs and trees, removing or relocating plants and shrubs, sprucing up a lawn and landscape, correcting drainage problems, seeding and sodding.
Let LawnSouth make the necessary renovations and repairs to your landscape so that it can once again be flourishing.
Contact or call LawnSouth at 770-642-7713 today to schedule an evaluation of your landscape.