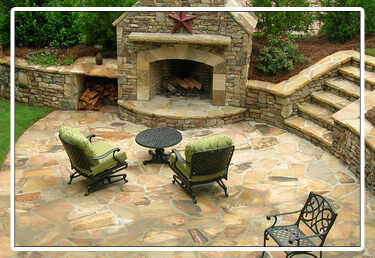 At LawnSouth, we believe you deserve only the best patio for your home. You need a patio that not only looks aesthetically pleasing, but also add function to your outdoor living area—a true extension of your home. We can design a patio of stone, pavers or brick, custom designing it based on your needs and planned use. Patios can vary in size from a small, simple perfect for a table and chairs to a large-scale terraced patio with an outdoor kitchen and fire pit. The possibilities are endless.
We have been designing and installing beautiful patios since 1989 and assure you with our skills, integrity, reliability and 25 years of professional experience, we will give you the patio of your dreams.
Contact or call LawnSouth at 770-642-7713 today for your patio design consultation.