LawnSouth is a full service landscape and design company that can turn your outdoor space into a livable space for you and your family to enjoy—your dream backyard oasis.
The visual appeal of your home doesn't stop at the threshold of your door; it extends across all of your landscape. An outdoor living space not only adds beauty to your backyard, but more importantly, provides a place to enjoy the outdoors year round.
Fire pits/fireplaces, outdoor kitchens and patios are popular features to create your dream outdoor living space that will bring people together and serve as an attractive center of attention.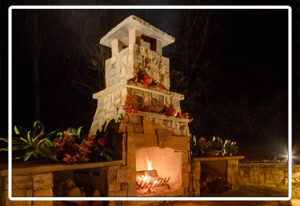 A backyard fire pit or fireplace will provide you and your family with enjoyment of the beautiful southern outdoors year round. Fire pits and fireplaces, growing in popularity, bring people together and serve as an attractive centerpiece to any outdoor living space.
Custom designed wood burning or gas powered fire pits and fireplaces can be constructed in a multitude of different sizes, styles, materials including stone, block, brick, flagstone and cultured stone.
Fire pits and fireplaces require careful construction for stability and safe use. Let LawnSouth deliver a professional, thorough and safe installation of the fire pit or fireplace of your dreams.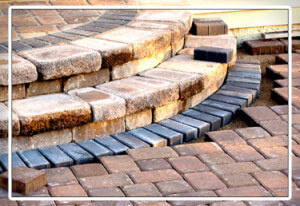 A patio brings functionality to your outdoor living area and can add to the overall visual appeal of the space. A cutom patio made of pavers, stone or brick can be incorporated into any landscape design plan.
We have been designing and installing beautiful patios since 1989 and assure you with our skills, integrity, reliability and 25 years of professional experience, we will give you the patio of your dreams. Call LawnSouth today and start enjoying the outdoors on you custom designed patio.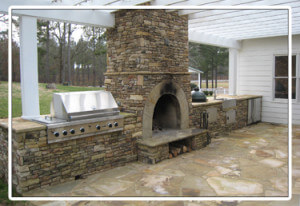 Cooking outdoors has become more than just grilling on the back porch. LawnSouth can build your dream outdoor kitchen that will make your family and friends want to enjoy all meals at your home.
Design can vary from a simple, built in gas or charcoal grill on a custom designed patio to a full outdoor kitchen with a grill, secondary cooking burners, oven, sink, lighting and more. Outdoor kitchen construction is best suited for the professionals at LawnSouth as careful construction is necessary for safe use.
Professional design, planning and construction, coupled with almost 30 years of experience makes LawnSouth the ideal choice in building the outdoor kitchen you've always wanted.
Contact or call LawnSouth at 770-642-7713 today for your outdoor living design consultation.