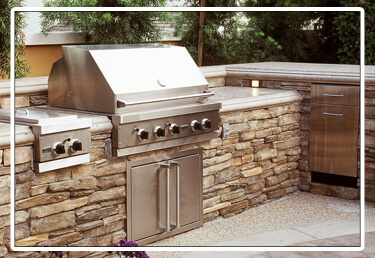 Wanting to move the party outdoors but still be able to cook and prepare your food? Maybe it's a little too stuffy indoors or maybe the whether outside is just too nice to ignore? Whatever your desire to get outside and cook is, contact LawnSouth to create and build you the beautiful and functional outdoor kitchen and cooking center of your dreams!
Outdoor Kitchens & Cooking Centers
Outdoor kitchens and cooking centers consist of grills and grilling supplies of all different sorts. It can be gas powered or charcoal. Cutting boards and other cooking appliances for cooking add to the comforts and functionality of your outdoor kitchen. Your outdoor kitchen can include lighting systems so you can better see once the sun sets. It can also consist of bug zappers and other nuisance eliminators as well as air conditioning devices that further increase comfort in the outdoors.
This Is Not a DIY Project
But before you get to all of this, first you need to have the proper design for your outdoor kitchen. A well planned design ensures proper construction and final project. We have seen way too many design disasters occur when people try to this type of project alone. Worse yet a group of cooking appliances in a random unorganized area does not qualify as an outdoor cooking center.
Free Consultation
Consult with the landscape design experts at LawnSouth for all your outdoor kitchen needs. We have been building world-class outdoor kitchens and providing a other landscaping solutions successfully since 1989. LawnSouth offers top of the line skill and expertise and a level of professionalism that has kept us in business for over 25 years. We promise to build a relationship with you based upon the utmost honesty and integrity throughout the construction process. LawnSouth can provide you with the best outdoor kitchen at a reasonable and affordable price. You deserve the very best outdoor kitchen for your home, so get the very best in the business in LawnSouth!
Contact or call LawnSouth at 770-642-7713 today for your outdoor kitchen consultation.