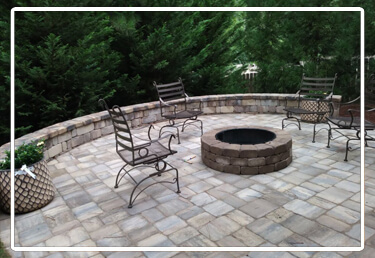 With the addition of a backyard fire pit or fireplace, you and your family can enjoy the year-round, beautiful southern outdoors. Adding a touch of style and artistry to any landscape, a fire pit can create a campfire environment in the comfort of your own property.
Design, Construct & Install
LawnSouth can design, construct and install your custom fire pit or fireplace. We can create one as simple or as elaborate as you want, and work within your desired budget.
There are many options in construction available. We can construct custom designed wood burning, propane powered or gas powered fire pits and fireplaces. These fire pits and fireplaces can be different sizes and styles. Additionally, we use a variety of materials including stone, block, brick, flagstone and cultured stone to make it uniquely yours.
Leave It To The Professionals
Further, it is best you leave this type of job to a professional because fire pits and fireplaces require careful construction for stability and usability. A professional landscape design and maintenance company such as LawnSouth can provide a thorough and safe installation.
Our teams are experienced and trained. We can add your fire pit to an existing outdoor space or creating it from scratch. We look forward to providing you with quality craftsmanship and world class customer service.
Contact or call LawnSouth at 770-642-7713 today for your fire pit or fireplace design consultation.