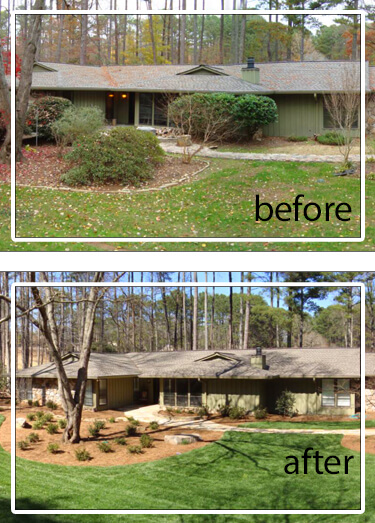 Often times, a landscape renovation and repair is needed when a landscape deteriorates. If you've moved into a new home that has an overgrown, renovation and repair may be necessary. Additionally, it may be needed if a landscape has been neglected or has reached an unmanageable point.
Landscape Renovation and Repair
LawnSouth are experts in landscape renovation and repair and can help restore your landscape to a more desirable and manageable condition. Multiple services are often needed to complete the entire project. Because of this, professionals are best for landscape and lawn renovation and repair projects.
Renovation and Repair Services:
Cutting back overgrowth
Trimming dead growth on bushes, shrubs and trees
Removing or relocating plants and shrubs
Adding new plants, shrubs, trees and flowers
Adding mulch
Correcting drainage problems
Aeration and seeding
Sodding
Renovation and repair services vary by property and the state of the landscape. First of all, one of our LawnSouth experts will meet with the homeowner. They will discuss your needs, budget and ideas for renovation. We will put together a comprehensive plan detailing the landscape restoration. Furthermore, our certified lawn care professionals understand that for a repair or renovation to be effective, it is important to understand and maximize the soil and growing conditions. At LawnSouth, we believe a beautiful landscape repair and renovation begins with quality design and workmanship.
Since 1989, LawnSouth has renovated and repaired hundreds of north metro Atlanta landscapes. We specialize in residential landscape and lawn repair and renovation. Above all, our experienced, licensed and insured professionals can revitalize your landscape. Let LawnSouth make the necessary renovations and repairs to your landscape so that it can once again flourish.
Other Services To Complement Renovation
LawnSouth is a full service landscape company not only available to renovate your landscape, but also provides additonally services including regular lawn mowing and maintenance and leaf and lawn cleanup, to name a few.
Contact or call LawnSouth at 770-642-7713 today to schedule a FREE evaluation of your landscape.