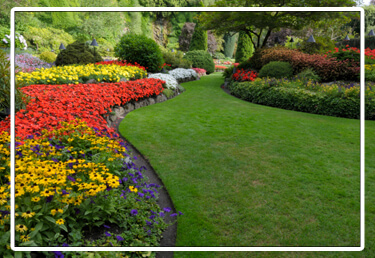 Having a well-designed landscape will add value to your home, add curb appeal and make you happy to call it yours.  The professionals at LawnSouth will conceive, create and implement a landscape design project to fit your budget, incorporating your ideas and visions to make it uniquely yours. 
More than planting shrubs and flowers go into a landscape design project—it is a well-orchestrated blend of greenery, and often times, hardscapes.  It is important to have a landscape design that is both functional and aesthetically pleasing.   
Elements of a landscape design plan can include:
Tree, shrubs, flowers, vegetable gardens and sod
Outdoor Kitchens
Fireplaces and Fire Pits
Patios- Stone and Pavers
Water Features
Landscape Lighting
Irrigation
We offer design capabilities from simple sketches to elaborate 3D models and plans to help you understand and envision all aspects of your dream landscape.
LawnSouth will guide you through the entire process from the initial consultation to installation.  Whether you have a desire for a small landscape project to accent your yard or an elaborate design for a backyard oasis, let LawnSouth design the landscape of your dreams.
Contact or call LawnSouth  at 770-642-7713 today for your landscape design consultation.