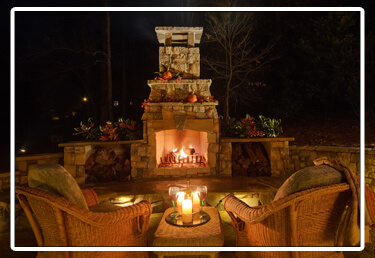 A backyard fire pit or fireplace will provide you and your family with enjoyment of the beautiful southern outdoors year round.  Fire pits and fireplaces, growing in popularity, bring people together and serve as an attractive centerpiece to any outdoor living space.
Custom designed wood burning or gas powered fire pits and fireplaces can be constructed in a multitude of different sizes, styles, materials including stone, block, brick, flagstone and cultured stone.
Because fire pits and fireplaces require careful construction for stability and usability, leaving this type of job to a professional can provide a thorough and safe installation.
Contact or call LawnSouth at 770-642-7713 today for your fire pit or fireplace design consultation.